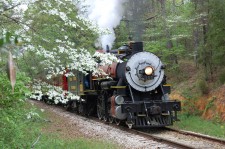 The Easter Egg Express and Texas Dogwood Trails Celebration
PALESTINE & RUSK, Texas, February 7, 2018 (Newswire.com) - Eggstra! Eggstra! Read all about it! A REALLY BIG bunny has been spotted in East Texas! The Easter Egg Express at Texas State Railroad, running on March 24, 25, 30, 31 and April 1, takes the whole family out for an Easter Egg Hunt filled with games and activities for all ages. There's no better way to celebrate springtime than with hugs, candy and photo-ops with the mischievous hare!
Starting at the Rusk, Texas, depot with 10 a.m. and 1 p.m. departure options, there are plenty of opportunities to journey into Texas State Railroad's enchanted Easter landscape. Kids can roam the grassy hills in search of colorful eggs filled with candy and prizes and get a great photo taken with the Easter Bunny. A variety of food and drink specialties will be available for purchase. The relaxing train ride is an eggstra-ordinary venue for a delightful springtime afternoon in the Piney Woods. These popular trains fill quickly and it's recommended to book seats early.
Spring is the season when the region's renowned Dogwoods are in bloom, peaking in late March. These delicate pink and white flowers are vivid along the rails of Texas State Railroad, contrasted against the train's burly, black locomotives and the vibrant crimson passenger cars as they pass through the verdant Piney Woods. As the rolling hills of the woodland forest unfold sleeping buds and new wildflowers, a kaleidoscope of color bursts along the tracks. There's freshness in the air on the open-air cars as the train passes over several rambling creeks and rivers.
This year, the blooms are even brighter at the popular "Texas Dogwood Trails" because East Texas is marking 80 years since the festival started. In addition to a train ride through the Piney Woods, an afternoon viewing the tantalizing beauty of the Dogwood trees in Palestine's Davey Dogwood Park should be on the agenda.
Celebrate the season with an adventure aboard Texas State Railroad; every minute aboard this vintage train is a reminder that it's the ride of a lifetime.
New Season, New Reason to Ride!
Contact: Teresa Propeck
Phone: 623-374-3185
Cell: 602-316-9887
Teresa@texasstaterailroad.net
New Reservations Phone: 855-632-7729
New Website: www.TexasStateRailroad.net
Park Road 76 • Rusk, Texas • 75785
Additional Photography is available
Source: Texas State Railroad
Share: